We're celebrating the release of FINDING YOU by Elizabeth Lee! Check out the excerpt below and fall in love with Boone! #BooneSwoon
Kobo
Description:
Being the wild child has worked for Mallory Vandaveer for most of her life. She's the good time girl, up for anything–and everyone in her small town knows it. But when her sister came home after years of being away, long hidden secrets came out. Turns out, Mallory isn't who she thought she was. And now everything starts to feel like a lie. In order to figure out who she is she'll have to set out on a journey to find the one man who holds the answers.
Everett Boone is in hiding. Hiding from his past and the press and the demands of a career he put on hold after tragedy struck. When a young woman with secrets of her own blows into town and rents the apartment next to his, he'll have to face the past he was trying to escape in order to understand his feelings for her.
They'll both have to dig deep inside themselves to discover whether or not they're capable of being enough for one another. Finding the person you're meant to love isn't the problem. Sometimes the hardest person to find is yourself.
GIVEAWAY
a Rafflecopter giveaway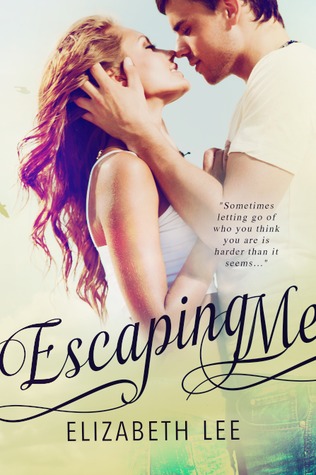 Title: Escaping Me
Author: Elizabeth Lee
Age Group: NA
Genre: Contemporary Romance
Published: July 30, 2013
Description:
All she wanted to do was forget. Forget the memory of walking in on her boyfriend in the middle of, well, another girl. Forget how she had her entire life planned out. And, forget about being perfect all the time. Unfortunately, she was Whitney Vandaveer and despite the fact that she moved to the middle of nowhere – she couldn't.
He always knew he would never be more than nothing. No job, no money, no future. Cole Pritchett had accepted the fact that he would always be the screw up and he was okay with it. Until he met her.
Here's the thing they quickly found out – sometimes we all need a little help escaping who we think we are.
In this follow up to the book Escaping You we get to know more about Mallory, Whitney's crazy, fly-by-the-seat-of-her-pants sister. I loved her in the first book and I couldn't wait to see more of her story and if she could possibly be tamed!!
Mallory is dealing with some tough news about the man who she believed to be her dad for her entire life and news that he is not her dad. This is a beautiful NA story of self-discovery.
Since Whitney and Cole have both relocated to Savannah, she is able to travel there every few days to 'spy' on the man who is her real father and maybe gather some information about why he left, and perhaps let him know who she is and that she exists. Along the way she encounters Boone who was more of a pest than a possible suitor. He is busy trying to find out why she comes to town and she guards that secret with her life.
Once she's settled she slowly lets Boone know more about 'Molly"...her alias. They start to become closer and settle on a no strings attached relationship, the only problem is, the more they get to know each other, the harder it is to stay true to their arrangement. This is an excellent read and I would recommend it to all NA lovers!! Well done! 5 stars!
Author Bio:
Born and raised in the middle of a Midwestern cornfield (not literally, that would be weird), I've spent my entire life imagining stories. Stories where the right guy always gets the right girl, first kisses are as magical as they are on the big screen and anything is completely possible if you believe.
Although this journey began years ago, it recently took on a whole new life. After years of devouring hundreds of Romance, YA and New Adult novels, I had an epiphany... I should write a book. And I did it!
If I'm not reading, writing, enjoying drinks with my amazing group of girlfriends or chasing around a sarcastically funny kid, I'm probably watching television shows that were created for teenagers, while my husband teases that I'm too old to watch them.
Connect with Elizabeth: